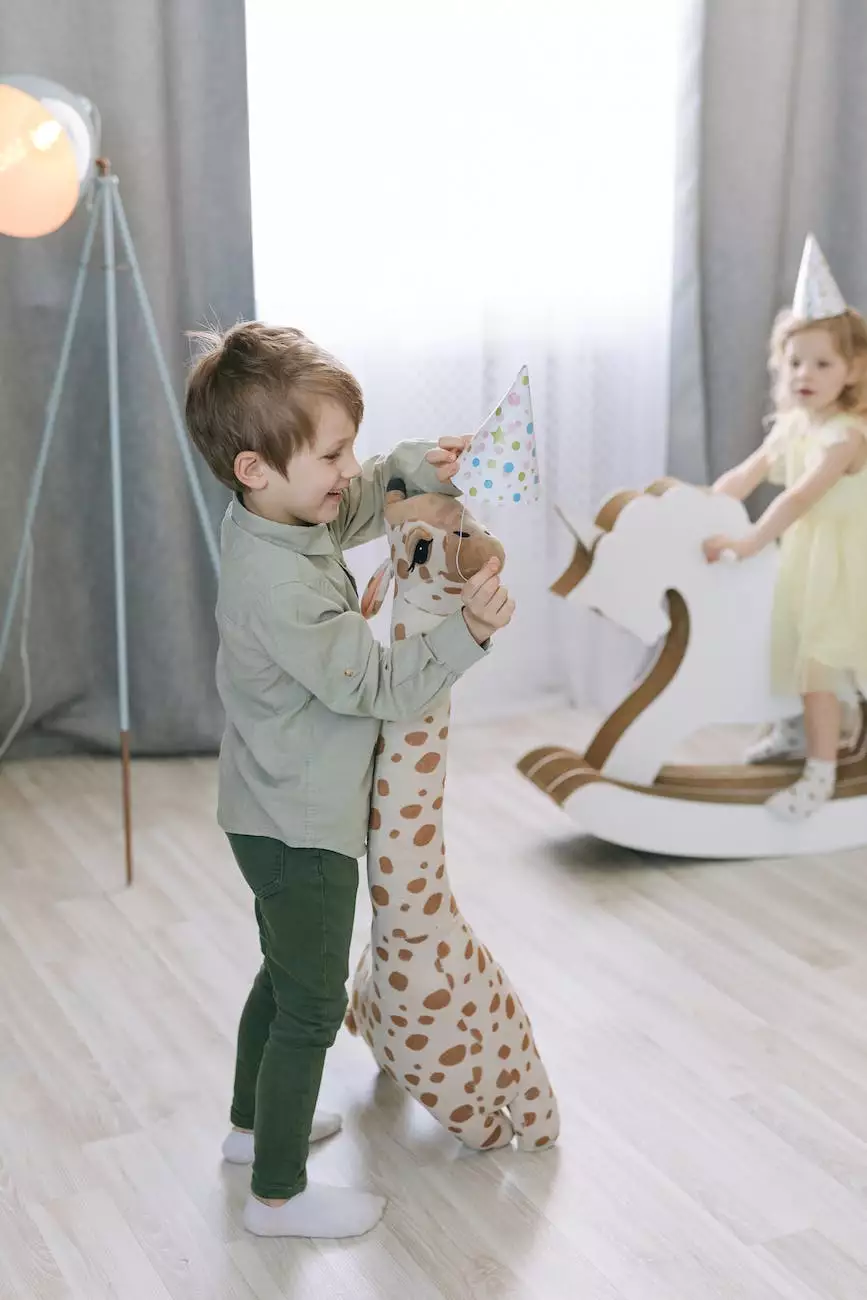 Celebrate with The Whimsical Wish
At The Whimsical Wish, we understand the joy and excitement of celebrating your twins' birthdays. That's why we have created an enchanting Giraffe and Elephant Birthday Party collection that will make memories to last a lifetime. With our carefully curated party supplies, you can host a magical celebration that celebrates the unique bond between your twins.
Create Magical Memories
Our Giraffe and Elephant Birthday Party collection offers a wide range of products and decorations designed to add a touch of whimsy to your twins' celebration. From adorable invitations and thank you cards to charming tableware and decorations, we have everything you need to create a truly unforgettable birthday experience.
Invitations and Thank You Cards
Start the festivities with our delightful Giraffe and Elephant-themed invitations. These beautifully crafted cards feature cute illustrations of giraffes and elephants, capturing the playful spirit of the occasion. Personalize them with your twins' names and the party details to make them truly special.
Once the celebration is over, show your appreciation to your guests with our matching Giraffe and Elephant-themed thank you cards. These thoughtful cards will serve as a heartfelt gesture of gratitude that will surely leave a lasting impression.
Tableware and Decorations
Dress up your party tables with our charming Giraffe and Elephant-themed tableware. From plates, cups, and napkins to table covers and centerpieces, every detail is designed to create an enchanting atmosphere. Our coordinated party supplies will impress your guests and provide a cohesive look to your celebration.
To add an extra touch of magic, explore our wide selection of decorations. Hang delightful banners featuring giraffes and elephants, set up vibrant balloons, and scatter adorable confetti across the venue. These finishing touches will transform your space into a whimsical wonderland.
Party Favors
No birthday party is complete without party favors! Browse through our collection of Giraffe and Elephant-themed goodies that will leave your little guests smiling. From cute plush toys and stickers to mini notebooks and keychains, we have a variety of options to choose from. These thoughtful and entertaining favors will be cherished long after the party ends, reminding your guests of the magical celebration.
Shop with Confidence
At The Whimsical Wish, we strive to provide excellent customer service and high-quality products. Our Giraffe and Elephant Birthday Party collection is made with attention to detail and a commitment to creating extraordinary moments. Shop with confidence knowing that your twins' birthday celebration will be filled with whimsy and joy.
Make Your Twins' Birthday Special
Experience the magic of our Giraffe and Elephant Birthday Party collection and create lasting memories for your twins. Explore our website thewhimsicalwish.com to find the perfect party supplies and decorations. Host a celebration that stands out and showcases the unique bond shared by your twins. The Whimsical Wish is here to make their birthday truly special.